My Fundamentals of Acting class had a performance today... it wasn't huge, it was just all of us (and some members of another Fundies class) doing our scenes... there were a LOT of audience members, though. Way more than I'd expected.
And everyone was fabulous. I mean, everyone in my class was better than I'd ever seen them. My partner and I really clicked, too. It was amazing.
I may actually try to do more acting now. I love it. Even the nervousness beforehand.
....Holy shit, is this two happy posts in a row? What's going on here?
Now for more random gifs just to slow down your computer!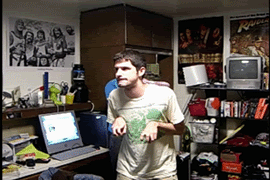 EDIT: Been playing L4D2 for a few hours... got literally 10 seconds away from the chopper in Dark Carnival when I got grabbed by a Smoker with everyone else down. OTL Doesn't mean it wasn't excellent, though.
( THINGS I'VE LEARNED NOT TO DO IN L4D(2) )